How to Throw the Perfect Cocktail Party
When it comes to entertaining, throwing a cocktail party can be a fun—not to mention affordable—alternative to a big dinner party. Since the focus of the evening is on drinks and snacks as opposed to serving a full meal, you can let your imagination run wild as you come up with creative drink offerings. When planning your party, it helps to keep a checklist handy. Here's what you'll need to make your next cocktail party the best yet.
Equipment
The right tools are essential to throwing a great party. First, invest in a cocktail or martini shaker. It helps to have one for each kind of drink you plan to serve, so you don't have to keep washing or rinsing out the same one between beverages. If you don't have the budget or the space in your home for a second or third shaker, ask a few friends if they can loan you one or two.
If you don't have a shaker or can't find anyone to let you borrow one, stick with pitcher drinks and/or punches. You'll need a large pitcher or punch bowl to serve those in. The advantage of making a large pitcher of drinks is that you don't have to keep mixing individual servings, and your guests can serve themselves.
You'll also want a good set of measuring, mixing, and straining tools. A strainer will keep the ice out of mixed drinks, while long bar spoons are perfect for stirring drinks in tall glasses. You can use a jigger to help you measure out the right amounts of liquor, or stick with tablespoon measures and shot glasses. If you are serving cocktails with fruit, such as lemon or lime slices, you'll want to have a small cutting board and sharp knife, as well as a vegetable peeler to make twists.
Glassware
The right glassware can add a level of sophistication to any party. Unless you expect guests to reuse the same glass over and over throughout the night, it can be helpful to have at least three glasses on hand for each guest. That way, if a guest gets separated from their glass, there are enough available for them to grab a clean one.
While you are free to serve drinks however you like, there are some loose rules to keep in mind about which drinks should be served in which glasses. Typically, drinks that are served "up," or without ice, are poured into cocktail or martini glasses. You can serve icy drinks, drinks with soda, or non-alcoholic drinks in tall, narrow, highball glasses. Pour wine or frozen cocktails into all-purpose wine glasses. Of course, you can also use your party as an opportunity to get creative, serving martinis in Mason jars or margaritas in short, stout, old-fashioned glasses.

Drinks
When it comes to drinks, it's usually best to keep things simple. Serve one cocktail that uses a clear base spirit, such as gin or vodka, and one cocktail that uses a dark base spirit, such as whiskey. Or, stick with classics that use interchangeable ingredients. For example, if you have simple syrup and lemon or lime juice, you can offer guests the option to drink whiskey or gin sours. If you add club soda to the mix, you can serve gin, whiskey, or vodka fizzes. Have vermouth on hand so you can quickly prepare gin or vodka martinis—or Manhattans, if guests prefer.
Offer red or white wine or beer to guests who don't enjoy cocktails, and be sure to keep water and a non-alcoholic option, such as lemonade or soda, on hand.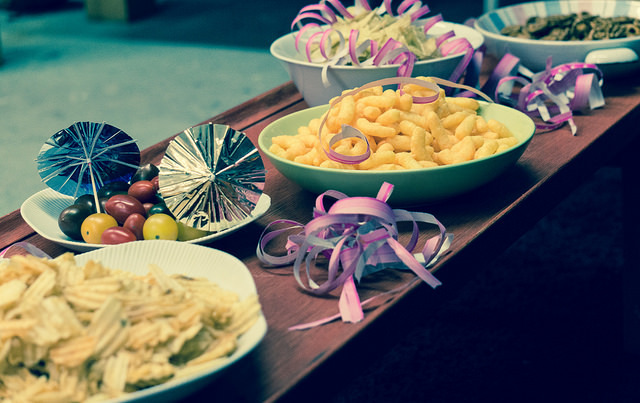 Snacks
You don't have to serve a full meal to your guests, but you do want to offer them snacks during the party. Generally, you can assume that each guest will eat between one and three pieces of each snack you offer, depending on when your party takes place. If it's scheduled for dinner time, it's better to have a lot of options, such as eight snack types and about three pieces per person for each snack. If your party is scheduled between meals or after dinner, offer about five snack options and estimate roughly two pieces per person.
What you end up serving at your cocktail party comes down to your budget, your tastes, and what your friends like to eat and drink. But with the right tools and a good drink menu, your party's certain to be a success.
Photo Source: Flickr/Didriks