How to Choose an Area Rug
Picking an area rug is not as simple as browsing rugs and finding one that's pretty. You have many considerations when choosing what could be the focal point of the room: material, size, pattern, and even what type of pad to use underneath. An area rug might seem as if it could be one of those impulse buys. But you'll be much happier with your selection once you learn how to choose an area rug.
Decide Which Material Suits Your Needs
The material you choose for your area rug depends on where the rug will go. High-traffic areas, such as a living rooms or hallways, call for wool rugs—they're durable and feel soft to walk on. Anticipating spills, such as in the kitchen? Choose a cotton rug, which washes easily. Need a sturdy rug for the basement or laundry room? Choose a synthetic rug. (These are also nice if you like to change your rugs often, perhaps seasonally, because they're economical.) Looking to decorate a sun room? A polypropylene, also called an indoor/outdoor rug, does the trick. Many people also use indoor/outdoor rugs under dining tables. Natural fiber rugs, such as sisal, jute, and sea grass, are popular options for a casual look. For an elegant look where there's not much foot traffic, such as in the bedroom, you might consider a silk rug.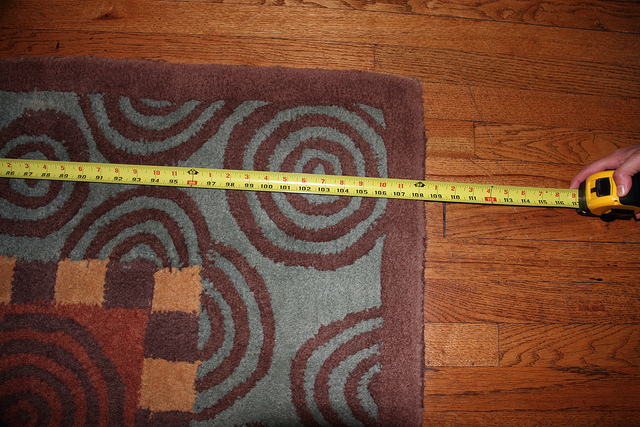 Measure Before You Shop
Once you envision the plan you have for the room and know what the furniture layout will be, you can figure out which rug size you'll need. If you have a small living room space with the furniture against the wall, your area rug should be just large enough so that the front legs of your furniture are on the rug. If your furniture floats in the room, not touching the walls, you can choose a larger rug where all four legs of the furniture can fit underneath. If the rug is to go under a dining table, the rug should be two feet longer than the table, both length and width, so that you can slide back the chairs and still be on the rug. For a bedroom, you can either put two runners along either side of the bed, one runner at the foot of the bed, or you could choose a large area rug that goes under about two-thirds of the bed and that extends out beyond the bed by a couple of feet.
Consider Color and Patterns
Choose an area rug that complements the other design elements of the room, not one that'll compete. If you just have to get that spectacular patterned rug you found, it's better to then choose your furniture and accessories to complement the rug. But if you already have a furnished room, you're better off choosing a rug that works with your pieces. The spectacular rug won't look good if it doesn't work with the room. When choosing a color, consider the color tones of your walls and floors.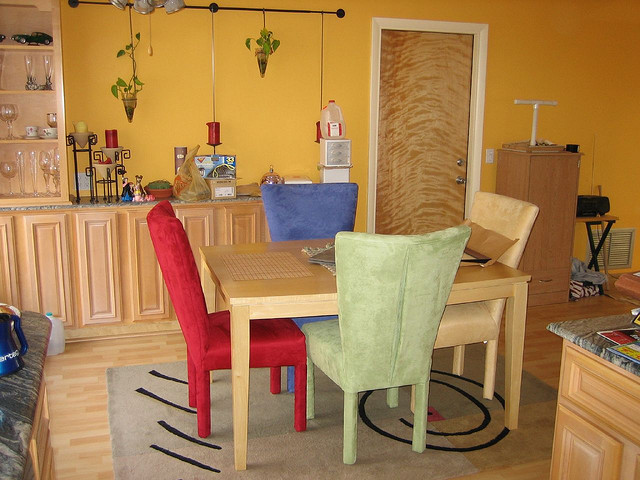 Determine the Sort of Rug Pad You'll Need
When trying to determine how to choose an area rug, it is also necessary to learn about rug pads. If you have a small rug or a rug in a high-traffic area, choose a thin, nonstick rug pad. This ensures the rug won't slide around when people walk on it and that it won't be raised too high off the ground, causing possible tripping episodes. A large rug in the living room with furniture on it can accommodate a thicker rug pad. This serves to protect the floor and to provide support. If you put an area rug over carpet, you'll need a dense rug pad to prevent the area rug from sinking into the carpet. And if you have babies or pets, you might consider choosing a spill-resistant rug pad that prevents any moisture from soaking through to your floor.
Photo Credit: Flickr/mattwalker69